Evolution of the American Bath
This article originally appeared on Artistic Tile. Visit them for more great content.
The 20th century was momentous in the establishment of the modern bathroom in western society – a period in which the bathroom transitioned from relative scarcity to become a requisite and stylistic touchpoint of the home. Societal forces including art, architecture and cultural movements have all influenced the function and form of the home bath, and certain periods are remarkable for the aesthetics they forged and for the legacy they have imparted. Let's have a look at some of these epochs, and the unique qualities that defined them.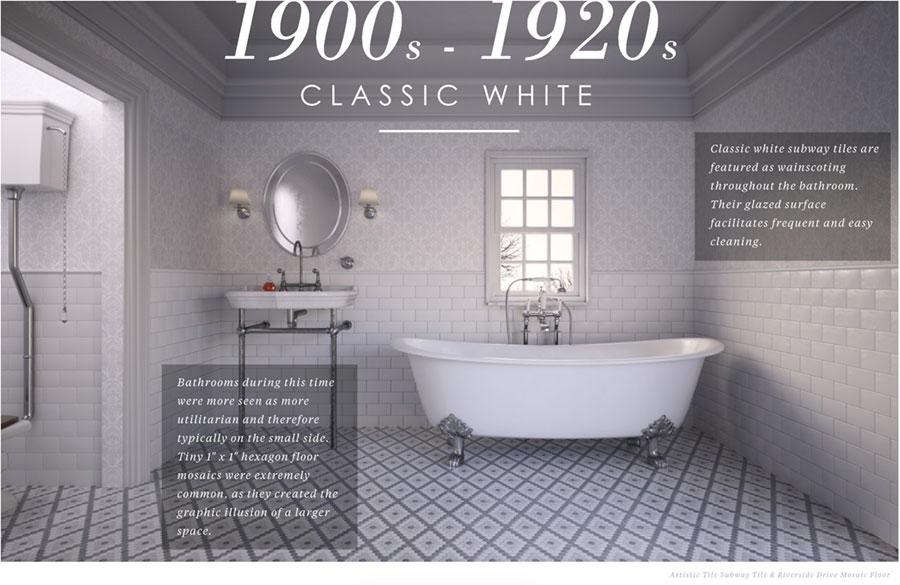 Only a century or ago, most homes did not have indoor bathrooms. It was only at the beginning of the 20th Century that indoor bathrooms became standard. In fact, tenements in New York City were not required to have indoor bathrooms until The New York State Tenement House Act of 1901 mandated that indoor toilets and bathtubs be introduced into all new apartments.
At this time, all-white bathrooms were the trend – a choice rooted in the Victorian notion that dirt sheltered germs. This preoccupation with cleanliness and "purity" favored plain white tiles, as they made dirt more visible, making it easier to maintain and display a "hygienic bathroom" inside one's home.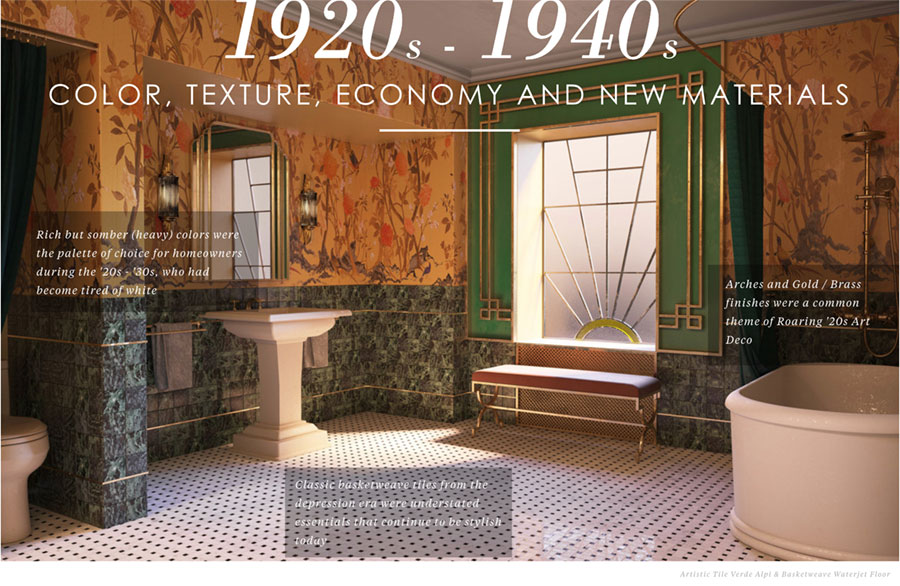 By the 1920s, new homes normally accommodated at least one bathroom. By this point, white had become stale, so bolder colors were introduced in order to make bathrooms a more styled, family-friendly environment.
New methods of transatlantic transportation enabled influences from previously remote lands, giving American homeowners access to a wider variety of fixtures, lighting, and tile for their bathrooms. A blend of curves, straight lines, organic shapes and mixed media captured the day's idea of modern, some of which have remained to become today's retro favorites.
While opulent design elements dominated much of the '20s, a combination of the Great Depression and ensuing American involvement in World War II in the '30s and '40s made some luxuries less accessible to homeowners. During World War II, domestic production of colored, decorative tile ceased entirely and became an expensive import. Wealthy homeowners still decorated in color, but perhaps given the climate, typically opted for more somber colors.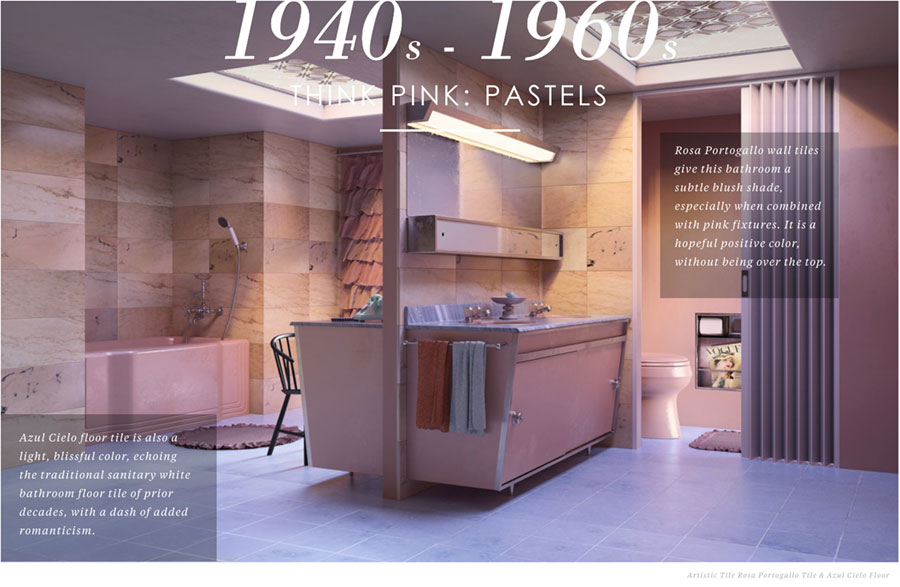 Relieved from their service in the war, men returned home to their wives and to work; wives could now step away from the workforce to re-focus on family and the home, and many set about the task of making it a more beautiful, comfortable home for their families. An optimistic outlook gradually brought color back into homes, but tight budgets and a shift in priorities also meant that a home's decorative elements were not as outspoken as they had been in pre-war times.
Function was as important as form in meeting the needs of the average American family. The Baby Boom and expansion of suburban life, with its larger houses, brought with it the expansion of bathrooms, in number and size. By the '50s, it was no longer enough to have only one full bathroom: the American Dream now included a powder room for guests, an en-suite master bathroom for parents, and a Jack and Jill bathroom for the kids.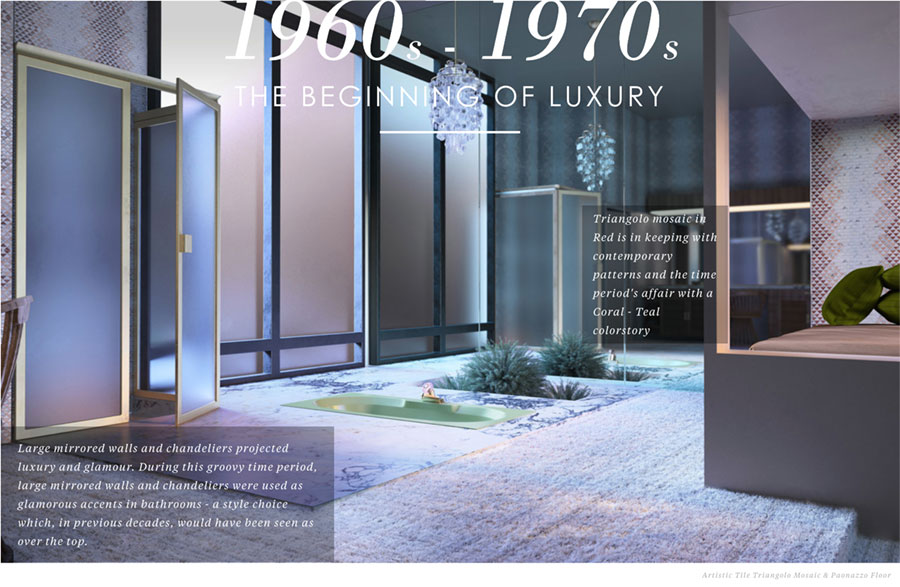 From the 1960s on, tile in bathrooms would be just as influential as furniture, lighting, carpeting and mirror walls. At the dawn of a new era of decorated bathrooms, more expensive materials like marble and stone grew in popularity.
McCall's Decorating Book from 1964 introduced a chapter on "Luxurious Bathrooms" by describing two over-sized bathrooms (one 16′ x 25′ with a window wall and a crystal chandelier), saying, "These exceptional and handsome bathrooms typify the new excitement that now surrounds this erstwhile neglected room."

Indoor gardens, sunken bathtubs, mirrored and pattern walls, an avocado-brown-teal-orange color story, metallic surfaces and, of course, wall-to-wall shag carpeting became the ultimate manifestations of luxury.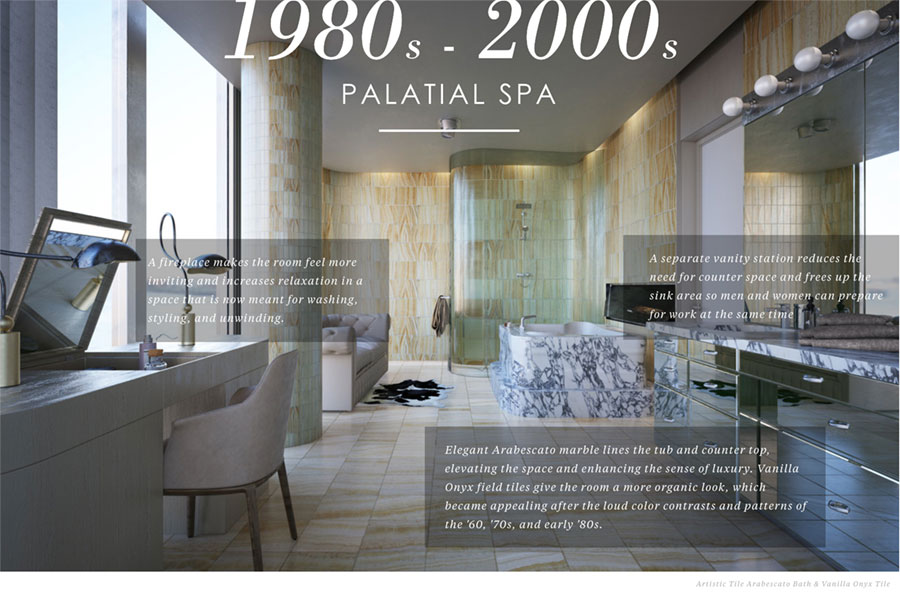 Neoliberal economic policies of the era and the end of the energy crisis drove the nation to a consumption fever, and that extravagant attitude would carry on for another two decades. A sense of abundance and lavish living spread to bathroom design in delightful proportions.
Spa-like bathrooms of the '90s combined the devotion to decoration from the former decade with a light futurism inspired by the forthcoming new Millennium. Growing technology and media exposure shifted consumers' definitions of "must-have" assets. Luxury bathrooms required jacuzzi tubs, double sinks and even, in some cases, a fireplace. Bathroom were enhanced with better lighting, higher grade amenities, and more space, as busy modern lifestyles for both men and women pushed homeowners to find sanctuary in their home baths, and to recognize that the amount of time spent in their home baths warranted an expanded investment.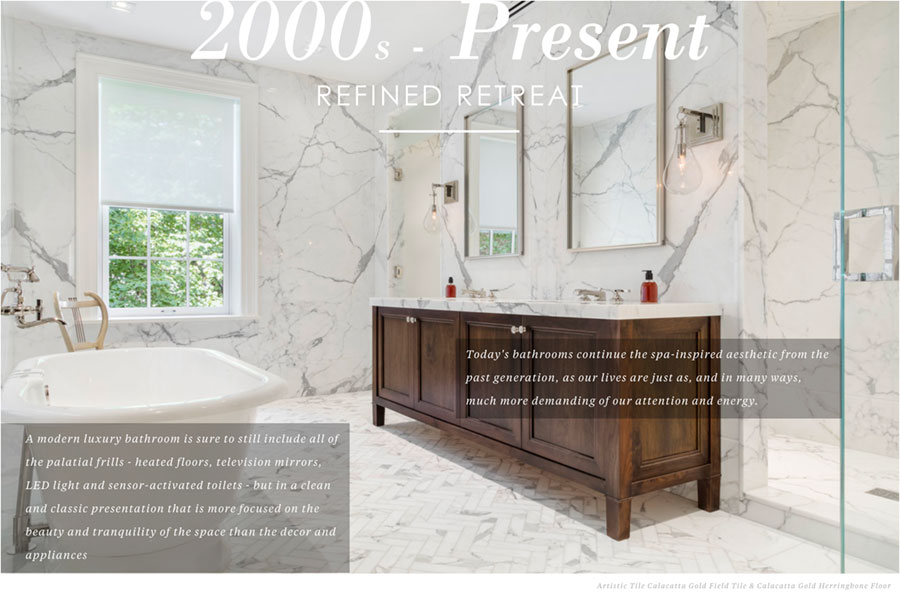 Today's bathrooms continue the spa-inspired aesthetic from the past generation, as our lives are just as, and in many ways, much more demanding of our attention and energy. With the prevalence of smart phones, the lines between our personal, social, and professional lives continue to blur, and time spent relaxing alone has become more of an aspiration and a luxury than it has ever been before.
A modern luxury bathroom is sure to still include all of the palatial frills – heated floors, television mirrors, LED light and sensor-activated toilets – but in a clean and classic presentation that is more focused on the beauty and tranquility of the space than the decor and appliances. Large showers are a must, rainfall shower heads are prevalent, and vintage-inspired standalone bath tubs have made a comeback as statement pieces.